These are stories (real and not) about petz. If you have one, send it in! They do not have to be sad, and they don't have to be about petz. But they just can't be like "oh Fido took the perfume and went to the garden, and oh. my. godsh. HE BURRIED IT!" no, I don't think so. A nice paragraph or poem will do nicely. But they HAVE to be on petz or animals. Not just "the girraffe licked my mom!" Oh goody, but again...NO. If you please, you can put in ONE picture, but I can't guarantee they will be posted. So send them in and I will be happy to post them! Thanks and read on. Oh yes, and I am ,in no way, connected to the Chicken Soup company.

INDEX


"Cashew"




"Witness of Abuse"




"Love Can Heal"




"My Real Cat"




"Corruptions"




"My Love For Animals"




"My Three Cats"




"~Whiskey~"




"Kittenz"




"Adopted... And Gone"




"Victoria"




"Sammy The Petz"




"Pouncer the Lost Petz"




"A True Story About A Real Cat"




"My Precious LaDa"




"My Love For Animals"




"I Loved You, But I Didn't Love Him!"




"Tiddly-Wink"




"My Dog, Max"




"My Dog, Sherlock"




"Albino's Story"




"My Pride Named Fly"




"Georgina: The Dogz That Can't Bark"




"You Left Me Without Saying Good-Bye"




"Gone As A Kitten"




"A Miracle"




"Why Did You Hurt Me?"



CASHEW

I had this catz in Catz2, a Golden Persian named Cashew. He (she?) was my pride and joy. I loved him very much and kept him for almost a year. Then Petz 3 came out and I figured "oh joy, I'll just import Cashew and he'll be happy with his new life in Petz 3." This was not so. When I went to import him, the computer wouldn't because he was hexed. I cried and was very sad for a long time. Then I thought "hey I can just e-mail the people who made him and they'll fix every thing!" I must have sounded like some kind of nut when I e-mailed them because I never got a reply. So my Cashew is still in petz2. But sometimes, I see him in my dreams. A real flesh & blood cat, sweet as ever. But that would never happen. But maybe some nice person will read this and know how to get him into Petz 3. Maybe.
E-mail me at kayvoice@aol.com
Thanks for reading this.
~Kayvoice

back to top

WITNESS OF ABUSE

I was standing outside because it was a really nice day and this lady had her two dogs outside. She had a german shepherd and a black lab. She had the black lab on a leash and it kept barking, she told it to shut up but it wouldn't because there was another dog walking by. So she got up and slapped the dog across its head, then when it still wouldn't be quiet she yanked really very hard on the leash and the dog squealed and she thought he was barking so she yanked harder and then the dog fell down and she stepped on its head! I was like 'Oh My God...' and then the guy came home and he petted the dogs neck and it squealed again. But the dog stayed by the guy and would not go near the lady. I felt so horrible! Does anybody know where to call to report animal abuse?! The screams and squeals from the dog were just horrible. I can't get them out of my head! They were so high pitched and it sounded as if she were stabbing it. I can't imagine how it would feel to have your owner almost snap your neck and step on your head!!!! I would run away if I was that dog! I love pets so much! I always have and always will!
~ Freaked Out Pets(z) Luver

*special note: if you EVER see such abuse, contact an adult IMMEDIATELY, then contact animal help ASAP, preferably a vet or shelter close to you or your own vet!


back to top
LOVE CAN HEAL

One day, I had two new little puppies, both pure white with hazel-brown eyes. They were the sweetest little creatures, and I loved them from the day they were born. Athena was Clover and Topeaka's daughter, and Icicle was Jalene and Joshua's son.
The two of them grew up, and became infants. I always took them out with their dad and mom, so they never got to see each other. They were very attached to their moms, and loved sniffing behind the supply case, like most of my infants.
Well, soon the big day came--they separated from their moms! I was so happy, but that happiness soon became concern--Athena always whimpered, and went around with her tail between her legs, even though I gave her the best of care, and didn't neglect her. Icicle wasn't much different. He never ran around. When I took him out, all he did was run out, sit down and stare pathetically at me. They refused to eat. I tried taking them out with their moms and dads, but they either didn't see them, or didn't remember them. I was so scared that they'd run away. I backed their .pet files up, I tried giving them more treats, I brushed them, petted them, I tried EVERYTHING. Nothing seemed to work for these two miserable puppies.
The day came when they became adults. They continued to act abused, and suddenly I had a brainwave--maybe they needed a mate! I took Athena and Icicle out together, but they pretty much ignored one another. I took out the heart treats, the heart cushions, the love potion and the perfume bottles. Athena was very depressed, and Icicle moped around. I was disappointed, but I was determined not to give up.
The next day was a bit better. Athena finally noticed Icicle, and sometimes they were happy playing together. But it never lasted long, and soon both of them were back to their old habits. Athena whined, and Icicle stared at me as usual.
The third day, something clicked between them, and they played together, gazed at each other, snuggled up to each other, and licked each other. They weren't sad very often, and seemed to like one another a lot. I was so excited--my idea was working!
Then Athena sat down with her back to Icicle and gazed at him lovingly. Icicle walked up...and a big heart popped up on the screen! I was overjoyed. I brushed their coats, and spoilt them with treats, which they had finally decided to eat.
Three days later, Athena's puppy was born. He is pure white with hazel-brown eyes, like his parents, and he's just beautiful. The only difference is that his eyelids are hazel-brown, and his parents' are white. I named him Glacier. I did notice he is very small though, about 1 cm long on the screen, when Athena came out with him, but I'm not too worried--
I know Athena will take good care of him, and in time, he will be a big, strong dogz!
~Denise of Snowdogz Kennelz
back to top
MY REAL CAT

It happened 3 days after Christmas. We had to put my cat, Sally, to sleep. She had kidney failure and just could not last. Our cat boxes were in the basement and she got so week she could not even go down there. We moved one up for her.
When my dad got home from a buisness trip back in October, he noticed she was getting thinner. He didn't notice a drastic difference, but he noticed.
She kept getting thinner until one night we got home from eating out and we saw she had thrown up on the carpet. We called the vet the next morning and told her what happened. She said we should take her in tomorrow at noon to give her the shots.
That night I couldn't sleep and had awful dreams. Sally was older that me and I didn't want her to leave.
I have to say after she was put to sleep I felt better. I felt better because she didn't feel sick any more and was in a better place. I still think about Sally and I still miss her. We got a new kitten and she is really playful! Her name is Greta.
~Thomas Keif


back to top
CORRUPTIONS

One day, I was on the internet, just playing when all of a sudden...*CRASH*
The computer went down. Stupid blue screen. I was mad...A few files were corruped, so I ran the ScanDisk (My computer dosen't do it automatically) program and it found 5 corrupted files. I deleted them, since they usually end up being internet junk anyways. That was a big mistake. I was bored, so I opened up Petz 3. When the yellow bar got to about the middle it said, "Data corruption: James.pet." I was shocked. Horrified. A small thing which had absoultely nothing to do with Petz 3 had ruined my computer for good. It was the first time that this had happened, to Petz 3 of course, but in the history of my computer you nor I can count how many times this happened. It still does. I know why, but that has nothing to do with Petz 3 and it's totally off subject. Anyways, James was my only Dalmatian I could find on my computer. I needed one to breed with my Siberian Husky, Bonnie Lee. James was the only one. Gone. Why? I didn't even use Petz 3 at all that day before this happened. I did have a backup copy, but it took me awhile to realize that it wasn't the same. This file was not current, so I had James, the Dalmatian, as a pup on my computer. It will never be the same though. He was an adult before this happened, and had already had a pup with Bonnie Lee. So now, his male pup is older than him. Well, since that day, which I can never forget, there have been no more Petz 3 data corruptions....Oops...Well, I could be wrong....
~Pikachu09


back to top
MY LOVE FOR ANIMALS
When I was born I loved animals, and I grew up loving them. My family was as any other, normal family, but I was crazy, about animals. When I was in 5th grade I became a vegetarian, and I have been one faithfully for over 4 years now. Right, like I'm in highschool and all, but I LOVE petz. I used to have, well, LOTZ of petz, I cannot name them all, I started with about 4, and ended with, well, alot. A while back my computer crashed, due to my brothers 10 MILLION dinky little war games, and with it I lost ALL my petz, and breedfiles. I am so crazy about animals, its well, somethings annoying, to everyone I am with. When I see an animal dead on the side of the road, I practically go into a frenzy praying for it, and it ever one is hit outside our house, I stop ALL trafic and rescue it. I am proud to say I have rescued 6 rabbits, 9 birds, and we have adopt 2 stray catz, who have come "roaming" through our neighborhood. I also provide homes for kittens with the second chance, until they can find homes. I take my petz VERY seriously! I'm so antiabuse it's almost funny. I have EVERY antiabuse banner you can find, and I will practically KILL anyone who sends me a pet to babysit, which is abused. When I lost those catz, and dogz, I felt like I lost my entire world. And I did! My mom bought me a new computer, and all my petz games were installed on there. Over the next month I became a collector, I got ALL the breedfiles, and did not have any petz. Then finally, while I was downloading a breedfile, I happened to look over at the litterz page, and there I saw her. She was small, a tabby, with bright green eyes. I immediatly adopted her, and named her Emmie, she was my pride and joy, and I LOVED playing with her, she completely filled the gap for all those other petz I lost. Eventually I also adopted a colorpoint female chihuahua, named Annie, a manx, named Maggie, and a Hexed calico, named Audrey. I show them all now, and they all make my home complete. I miss my old petz so much, and being the animal lover I am, I missed them especially, because I took them as real animals. But my four little kittys, and one puppy, brought me through it, and even though I will ALWAYS miss all my other catz I lost, I am almost glad it happened, because without, I would never have gotten my petz today.
~Rosie


back to top
MY THREE CATS
This is a story about my 3 real cats.Ok sometime in November of 1998 my stepdad brought home a kitten from were he worked,in a consruction company,there were about 5 little abandoned kittens. When he brought the little kitten home I was so happy,we named it Tigger because it looked like a grey tiger.I will never forget that day I was so very happy until the day of April 30 1998 we found him hit by a car.It was the day my stepdad had his heart operation,my mom thinks that Tigger was an omen,not a bad omen just an omen because he died the day of Jack's operation(my stepdad)and on June 1 1998 Jack also died because when they did the heart surgery they didnt check his stomach out and he had an olsar and it popped during the operation and messed up his lungs and liver.RIP Jack!Well besides having Tigger I also had 2 other cats the one was a B&W shorthair and the other was a Orange and White shorthair.We had Bloopers(O&W shorthair) since I was 3 and he would always sleep right next to my mom in bed,but then one day in August he got really sick and my mom force fed him so he would eat and he lived but then in October we had to put Bloopers to sleep because he had a liver problem.I'm very upset about this.A few months later in February my cat Baboo(B&W shorthair)he too got run over by a car.The night before I found out I slept over a friends house and when I rode my bike home my mom told me to sit down and I was like "why did Baboo die?"(I never really thought he did) and she said "yes" and I started to ball my eyes out .But I think all my emotins are drained out from all the deaths in my life that I can't really cry when someone or something dies anymore.
~Lauren~A.K.A Drained Emotions RIP Bloopers,Baboo and Tigger, and Jack :*(


back to top
~WHISKEY~
I needed a husband for the first puppy I ever bred, Honey. So I looked in the petz adoption center under Dalmatians. And there he was…. Jack the Dalmatian…. I knew he was the one. So after I had him for about, like, two minutes I fell in love with him. I thought "Jack" didn't suit him right so I named him Whiskey, not after alcohol…. but, like, you know what to "whisk" something away means so you should know what Whiskey means. Well, Honey simply adored him and they had TONS of puppies. Then, I did the worst thing. I returned him. And for no good reason! The next day my dad said I had to delete some petz because I was taking too much space up. So I thought…. This is the perfect time to get back Whiskey…. Because I missed him so. But first I was going to delete some of my returned petz (don't worry, I already got them homes!) and I came across Whiskey. There was three Whiskeys. I remembered why…. I had made a copy of him just incase my bro. went and abused my petz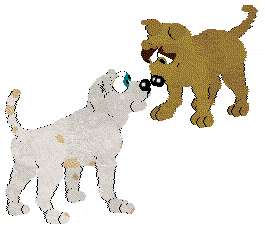 (that's how I lost my poor Cassie… but that's another story.) And I also thought I made two copies of him. I deleted the second two because my bro. had past the abusive stage and emptied the recycle bin. So I brought back Whiskey. But when I took it out it wasn't Whisky…. it was a dog I used to have named Whisky!!! So my Whiskey, my baby was gone 4ever. I was so sad. And Honey couldn't take it. Every time I took her out she mourned for him. So always check and see what you're deleting, please. This is the only pix I ever had of him.
~Meghan, this story is dedicated to Whiskey


back to top
KITTENS

This is a true story that happened about 4 years ago.

I walked out to my backyard on that cold, winter morning to let my dog out of his room. Connected to that room was my garage. I occasionally looked inside the garage to see what I could find(We didn't keep cars in our garage, just old family memorabelia). I walked into the garage. I heard a faint mewing, and suddenly, I saw a cat streak by. It ran out of the garage, leaving its most important possessions, its kittens. There were about 5 of them, cute, little mewing balls of fur. I screamed for my sister.
"AMANDA!!! THERE ARE KITTENS IN OUR GARAGE!!" She dashed outside and into our garage. We took a large bucket and put each kitten in. It was so cute, they kept jumping out! We laughed and laughed. But we had to go to school. We told our baby sitter to get all the kittens together and have them for us when we got home from school. I didn't waste a minute. I told everyone about the bundles of joy I had found just a few hours past. When we got home, we looked carefully at all the kittens to see which one we wanted. My sisters and I picked a cute little orange boy, because he was the nicest. My mother wanted the prettiest name. And since she, being the mother, got her choice. I cried when they took those kittens to the ASPCA. Of course, I had our little kitten, Sofia, but I wanted them all. We had already had two other male cats in our house, Pepe and Waldo, and having a beautiful young girl cat was quite a change for my boys. Finally, it came down to a fight between brothers. Pepe and Waldo fought over Sofia, and Pepe, being larger, beat his brother. With a yowl of defeat, Waldo ran out of our yard. A day later, a woman came to our door asking if "A male orange cat" was ours. She said she had been feeding it, and she had gotten quite attached to it. Since she lived close by and we could visit, we said yes. Pepe and Sofia grew up together, and now Pepe protects Sofia from evil Crystal, my grandparents' cat. My two cats now live at my grandparents' house, in the wilderness. They are happy there, and I am glad my two babies are happy. But I wish I could see my Waldo again, because we moved away and don't live near his home anymore........
~Andrea, Southern Kennels~


back to top
ADOPTED... AND GONE

How Kak Sees It
"I had a mean name, I did, and I know I was abused. Really, Really, I say, that I didn't know that my new owner was better. I guess I should tell you the story. I cannot tell you my old name... It is too mean. So my NEW owner adopted me. But then, thinking that I was still going to be abused, I ran away. I did, before my NEW owner even got to see me. She had even renamed me a better name, Kak. It is a silly name, but better then the original one."
How I See It
"Really, I adopted this Male Chinchilla Persian BECAUSE of its bad name. Because I like adopting abused petz so I can give them a better life. But when I adopted Kak, I saw he had RUN AWAY. I didn't get to see him the slightest bit. Well, I can always make a website so you can play with him with the Petz Player, but it will never be the same. I love you, Kak, even though I have never known you."
~Kaelyn


back to top
VICTORIA
Victoria was the very specail Catz I never got to own. Her parents, Victor and Party Cat, were both imported from Catz 1, the day I got Catz 3. Victor was pregnant by the afternoon from Party Cat. In a few days, the miracle happened. Victoria, the Persain/Calico was born. She was a newbornz for the standard time and then she was the cutest infant I ever saw. Victoria, named slightly after her mom, was my first baby. She was the first Catz I took out every day even while her mom was still with her. Then one day, they started. The Data Corruptions. Her daddy was first to go then came Victor. I did not even keep her on a disk! Victoria was gone forever. I still remember her little face, though. Always.
~Mikeekat
back to top
SAMMY THE PETZ
When I was very young I had a dogz named Sammy. He died of cancer. I was very sad, and angry at myself for not getting to tell him I loved him before he left. Well, when I got Petz 2 I adopted a mutt. I couldn't think of the right name for him. Then I relized how cute he was, and a name popped into my head! Sammy! We played frisbee, and ball. I'd feed him every day. He was my favorite! Well one day I came into Petz 2 and he was gone! Missing! Ahhh! He had left me, his file had corrupted... I cried myself to sleep that night. About 1 1/2 years later, I got petz 3. One day I started searching threw my files when I noticed a file titled 'Sammy.pet'. I couldn't believe it! I was so happy! Infact I found all my Petz 2 files my sister deleted when she deleted the game! Well, my sis wouldn't let me import any more petz into Petz 3 cause we have too many. =( I am still waiting for the day when I get to see my Sammy's sweet face again, and here his joyful bark as the frissbee flies threw the air...
~Renee of BBKC~


back to top
POUNCER THE LOST PETZ
This my not be the best story in the world, but oh well. When I first got petz2 (about a year and 2 months ago) I adopted a B+W shorthair, and like most people I adopted more than just that petz, but I don't remember any of them now. I remember opening petz and playing with my petz, but my game had a big static problem. I told my dad and he said that he was going to reload the game. I knew then that all my petz would be well gone. My dad didn't reload the game for about a week, derring that time I thought about keeping a copy of Pouncer, but I didn't thing that I would miss him. So when the day came that dad reloaded the game I didn't mind. Only my game still had static and I missed Pouncer (I still do). I should have just kept the game how it was, it didn't make any difference. You may have read lots of stories about computer crashes were people lost there petz or viruses but I say I know it's all my fault that Pounce isn't here anymore and if I had to make that that chose again I would have kept a copy of him. So now I tell you the readers something that every petz lover out there should do, put a copy of your most loved petz on a disk. I have done that with my most loved petz and now I know that if my computer ever crashes or a virus gets in I don't have to go though all that pain and so I'm happy but I still have the pain of losing Pouncer (witch you may think isn't that much cause it's been so long but it is).
~Karen, saddened forever
back to top
A TRUE STORY ON A REAL CAT
He looked half dead when he jumped over our neighbors fence. We had seen him sprayed and things thrown at him at thier house. He came to us... wanting love. My dad said not to get to attatches, but it was to late, we had already named him and he came inside often. We put up signs and no one responded so we kept the poor little kitten. He grew healthy and to like the whole family. Figaro was his name and he would sometimes dissapear. He would often eat his catch of birds,lizzards, and mice if he was hungry and ate all his food. Then we moved to a rental house were he dissapeared for 2 weeks. We thought we lost him. But then we moved into our house that we live in now, he coming. He stayed with us for a year or two, but then he dissapeared. For a month we called for him and put up signs. He never came. He never returned. Where are you Figaro? I hope you have found a new family or are you in rainbow bridge, waiting for me? I want you to know I love you Figaro and still care for you. I miss you so. I cried for you. Just be well for me, Figaro.
~*§*~ Christina Wiley, still crying ~*§*~


back to top
MY PRECIOUS LaDa
I know you were only a computer petz, but I loved you!
You left your wife and puppy too.
Oh LaDa why did you leave me?
Oh LaDa if you could only see how much you meant to me!
I wish I could have said good bye
But all I did was cry
I love you!
~Lisa

Note: I did NOT abuse LaDa he ran away because I over adopted!


back to top
MY LOVE FOR ANIMALS
When I was born, I came home to a small house with a 2 1/2 year old sister, a mom, a dad, (who i came home with) and a dog. This dog's name was Sammy. Sammy was a Norwegian Elkhound. He was so sweet and soft, and loved everyone! As I grew, along with Sammy, we began to become BEST friends. My kitty, Mr. Kitty was a sweet guy too, and Sammy and him both got along well. When I was about 3, my family moved to a larger house. One day my kitty was found hit by a car. =( We buried him. I was so young I don't rember saying good bye. As I grew older and older, Sammy grew older and older. When I was 5 or 6 (I think 5) and Sammy was 10, he went to a vet check up. The vet did many tests and found that Sammy had cancer. My mom and dad knew what was going to happen. Sammy was going to die. A time later, I was still the same age, my dad fed Sammy and went down stairs to send some e-mail. When he came back up. He found Sammy, my best friend, dead. I do rember this incedent. It was terrible. I made him a large card (witch In called a grave stone), and my dad buried him near where we used to live. My sister, my mom, my dad, the neighbors, and me all cried.
Now I have another dog. He is an English Setter. He means so much to me! I went to http://www.dog.com and found a picture of a Norwegian Elkhound, witch was Sammy's breed. It's on the bulletion board in my room. My dog that I have now is sitting by me as I write this, snoring. (LOL) I always talk about animals, and scream at the people in my class that talk about abusing animals..*shudder* . My best friend (thats a human) thinks I am WAY to obbsessed with animals. She says that I care more about my pet(s/z) then my family. And i just tell her "My Pets and Petz ARE part of my family!" and she just rolls her eyes. Well, I guess my love for animals will never end, and I'll always be this way. I still remeber all my pets that left me. There were many more then Sammy. I now live with a dog named Bogart, a cat named Pat, a cockatiel named Java, a parrot named Squawky, two g-pig's Cedar and Chocolate Chip (their last name is Chip), and tons of guppies! Animals are the best!!!
~Renee of BBKC


back to top
I LOVED YOU, BUT I DIDN'T LOVE HIM!
I know you were worried when your evil little brother sprayed me millions of times! You sreamed, but couldn't stop him! Sure he was grounded, but it didn't get me back. But the truth is, I'm okay. I ran away to another computer, sprinting through cyber space, running though the cable and phone lines. I found someone without an evil little brother, but someone with a brother that liked army clothes and 'spy' outfits. Everyone in the family is nice to me there. So you see, I'm A-Okay! Sure it hurt a lot, and I was scared for life, but everyone has to deal with that, huh? What about you though... I miss you! I want to go back! How can I go back? I think I'll jump into this e-mail and address it to you! What was it again.. Oh yeah! Whoa... urg... I think I get e-mail sick... arg... I think I'll barf... are we there yet? Tjis might take longer then I though... oh I'm gonna puke! What? We are there? Hmmm, I'll go into this folder! Ooops! Sorry! Woung folder! Here it is... Adopted Petz! Okay... open Petz 3 already! Come on! There you are, here I am! I came back! Aren't you happy? Whats that? Your brother is in prison for REAL petz abuse? I told you it would lead to that!
~Jacquelyn


back to top
TIDDLY-WINK
The cat was half-dead when I found him, put up for adoption as a fighting on some heartlss tyrant's site. Barely recognizable as the calico he was, he was abused, I assume, and had lost his will to live.'How could anyone be so cruel as to do something so heinous as abuse an animal, whether it be real or virtual?' wondered, blinking back tears of hatred. So what else could I do but take him in and give him some much-needed TLC? The first few days were rough, for both him and me. The calico (who I later dubbed Tiddly-Wink) would project himself at the ceiling and hang there whenever I took him out. After I finally coaxed him down, he would often hide off the screen, away in his own little buble of warmth and free from abuse. Gradually, though, things began to look up. The kitten would accept a bottle of soothing milk from me, and even would rub up against my hand on rare occasions. Finally came the day when I thought I'd introduce "Tiddles" (as I now fondly called him) to a female cat his own age. But I picked a cat, who, although she was perfectly sociable with me, tended to -how do I put this- be a bit rough and troublesome with other Catz. She and Tiddles didn't...agree. 'So much for THAT idea', I thought as I soothed my baby's nerves with a backscratch and some Treatz. Over time, I became very attached to the handsome, yet shy, feline who had once been a scrawny case of abandonment. he was my inspiration, even though he didn't have all the capabilities of a live pet. Then the worst happened. That fateful day, I openened my Petz program. Halfway through the loading process, four little rectangular boxes popped up, each saying something about a data corruption, involving various files. The first three had "Pickle.pet", "Custard.pet", and "Peanut.Pet" as the files missing. But the fourth one read, "Tiddly-Wink.pet". 'No!' my thoughts cried out. I was aghast. How could this have happened to me?! My only guess was that there was a file which I had downloaded off the internet with a virus on it, and tthat had caused this tragedy. I never got my baby back. He was swallowed for eternity by the marauding computer virus, never to return. It just goes to prove how dear someting can be to you, without you even realizing it. Tiddly-Wink will always live on in my heart and my mind. He was the greatest cat I ever owned.
~Music Almanac


back to top
MY DOG, MAX
My real dog, Max, passed away a few years ago. He was a mutt, plain and simple. Yet, he was so much more. We adopted him when we lived in Arizona. His mother, Daisy, was found by friends of our family waddling down the street. The next day, she gave birth to 11 puppies. We adopted one and named him Max. In his younger days he was a little fuzzball full of life. He was a Heinz 57, but a good part German Shepard. His bloodlines didn't much help his hip, but being hit by a car made it worse. Later, when my dad got applied for a job transfer, we moved to Alaska. Down the street a little ways is a trail. Max would walk himself down there, enjoying the senery. One day it wasn't so serine. A moose came up at kicked him right in the underside. A neighbor found him and we had to rush him to pet-emergancy. He had to get hundreds of stiches, but amazingly, he lived. A few years later he died, at 14. He couldn't get around well. He's the only dog I've ever had, but untill I get another, his memory will live on in Max, my German Shepardz.
~CatzNDogz


back to top
MY DOG, SHERLOCK
This is about my real dog, Sherlock, who had lots of pride, courage, and bravery. He was a Mastiff, and a GREAT one at that. Even though he liked my mom the best, I still know he loved me. He played with me, and growled and showed his teeth to anyone who came near me. About two years ago, he got terribly sick. He spent a year being ill, and I thought it was the end. It wasn't, or at least until that dreadful day in September.
My mom took Sherlock to the vet, and my school called her to take me home because i wasn't feeling well. When my mom came to pick me up, she had tears in her eyes, I didn't know why. I asked if Sherlock was in the car and she said "No." I asked If he was at the vet and was staying overnight and again, "No." Then, I asked "Did you drop him off at home?" Then "No." So I finally asked "Then where is he?" And she replied, choking on the words...."He......DIED!" I was very shocked, and started to cry. I cried all day, and all night. My other pets, Tinkie, my cat, and Raggsy, my dog, seemed to understand. I like to think that Sherlock is in a better place.
~Emily, for her Dog (RIP)


back to top
ALBINO'S STORY
Albino was the nicest catz I ever had in Petz 3. He loved everything, from other catz, right down to the mice. His mother --Caramel-- and my friend's (Siam) catz, Dorine, had thier kittens on the same day. Albino and Dorine's kitten --Mic-- grew up together. They were the best of friends. Caramel + Albino went to Siam's Computer often to visit. When they left thier moms they were so happy! They got into so much trouble without thier mums though. *LOL* On the second day after they left thier mums, I sent Albino to Siam's house, as always. When it was Lunch time, I went over to Siam's REAL house, and we ate lunch. Siam left Albino + Mic out to play while we ate. Siam's brother, got to the computer and got a wicked idea. Mic must have ran out, the door was unlocked. And that left poor Albino alone with Siam's evil brother. We ate dinner not knowing what was happening.
When we came back we discovered that Petz 3 was not open. We reopened it and brought out Mic. When we went to get Albino... he was a run-away. Siam looked in her spare folder for Albino's extra file. It was not there. We panicked, we tried everything. The next day, we planed on continuing our efforts to bring Albino back... he wasn't there at all. We had not clicked on him and gotten the "Sorry, but Albino has ran away..." message. He just disapeared! Albino's file wasn't even in the Run away Petz folder. He had not been returned either.
After crying, yelling, and morning, I went to get what was left of Albino-- his pictures. I went to the Petz Pix folder then into Albino's special pix folder... It was empty. All I could do was scream. Siam came running in (eyes red from crying) and gasped. I searched the whole computer and found only 1 picture. When he was first born. I still hate myself for not keeping Albino's pictures on my Computer. (we had agreed to keep Albino's pix on Siam's computer scince he was there most of the time)
The same day, me + Siam was staring at the one picture we had left of Albino... crying. Siam's brother poped in and say "Yo, what you dweebs up to?" We turned around for a second then continued looking at Albino. "oh, gosh... you lose one of your little petties? I wonder how THAT happened..." Siam turned around and leaped at her brother. I grabbed his head and pulled on his hair. Siam gave him a good kick in the *ahem*. The next day Siam's brother went to a trip with his friend to Phillie. When he got back... well, we left him a little surprize in his bed that night....
I still miss Albino and only tell a few people. Albino had just started life, and it was taken away from him by a evil person. Watch out your your petz...
~Janz and Siam, In luving memory of Albino
back to top
MY PRIDE NAMED FLY
My pride and beauty is a female border collie (from Silver Moon Kennelz)named Fly. She was kind of stubborn when I adopted her, and she didn't really like my other petz, Rex, but the ice that caked over her heart eventurally melted. She and Rex had a pup, Saria. Fly loved Saria. And Saria loved her back. Everyday they would meet at the beach. Maybe they would stop at the clothes closet, but they always saw each other there. One day Saria was wating for her mom at the beach. She waited. And waited. Finally, she gave up and went to the family room. When she was about to fall asleep, her father came through the Petz door. He said he was sorry, but Fly was returned because she was "accidently" spayed by the owner's brother. Saria didn't want to believe Rex, so every day, until she was "accidently" spayed and returned, she waited for Fly to come through the Petz door.
~Link, This story was based on a story from the real "Chicken Soup for the Pet Lover's Soul"


back to top
GEORGINA: THE DOGZ THAT CAN'T BARK
One day,my dogz,gave birth to the most wonderfull mutt a mutt can be.When the mutt,I named Georgina could be away from her mother, something was wrong with her!She couldnt bark,or whine,or do any dogz soundz!So then I realized,how special of a dogz I have! Georgina can't bark,and she is a very playfull puppy,and is VERY obidient.She has a wonderfull life,with monthly vet checkups. And this story is true, Georgina can't bark!
~Princess


back to top
YOU LEFT ME WITHOUT SAYING GOOD-BYE
You did not cry
my mother told me but I did not listen I ran away looking for an answer
You were a great dog
Every one loved you to play, walk, and jog
Why didn't you tell us your problem we could of helped
Even with you gone and it being for months a week ago
Why? Why? Why? Why? Why? I ask myself
you were real a real dog not a computer dog
I know you luved us but why there and then I asked but no response of your body
Why at our favorite Lake during summer
Could you of at least went when we got home
no on you left when god was asking for your soul he knew but we did not
every day I look at your picture and I know your spirit is with us.
IN Dedication to My Dog Ollie Bullie snoozle
Ollie we all miss you very much
~Sent in by Yolanda, a dedication to her dog (may he be safe)


back to top
GONE AS A KITTEN
Oh yes! The freedom! Away from my other strict owner! This one lets me do whatever! I'm so happy! My other owner is gone, on vacation? At school? Who cares! I am free in the closet! Yea! Ohhh! What's that? A bottle? Of milk? Of Chocolate milk? Of juice! I don't know, I'm only a kitten! But who cares? I want some! I'll hit some out! OW! This one is rotton! I'll try again! OW! They keep hurting me! OW! This hurts! I hate this! I want to leave! But I can't! The door! It's locked! I thought we can't die! I thought…I thought…NO!! I can't be! It's black! But…I hear…I hear my mommy. She's crying! So is my owner! I thought we couldn't die! It was just one afternoon! I thought it was juice! Nobody told me the truth! NO! Don't return me! I can't leave! I'm alive!! I'm alive! But…I can't die. Why am I gone? I hate the hurt look in mom's eyes. I hate the stricken, shocked look in my owner's eyes. They are tearful, and I know the truth. Petz CAN die, but not as humans know. NO! Don't return me! I'll be lost forever! I just thought it was juice… I didn't know better, no one told me, no one taught me. So now, I am gone…forever…I love you mom…
~Written by me, based on "Dead at 17" from
Chicken Soup for the Teenaged Soul (the first one)


back to top
A MIRACLE
I smiled as I saw my little sister play with the tiger kitten. I then sighed out loud, suddenly remembering my darling tiger- Blizz and, of coarse, Callibar.
"What's wrong, Nora?" Little Hannah asked, her big brown saucers for eyes sparkling with question.
"Oh, it's just your catz reminds me of something. It's a long story, I guess."
"Tell me, please?? I want to hear the story!" "Ok, it all started one day…
"I was playing with my little kitten, Blizz. She was a white tiger catz hexed from The Sunnyside Up: A Petz Kennel. She was ADORABLE and I loved her instantly. She was soon trained and even my mom, who is hard to please, loved the little black and white kitten. This catz even liked the water! Including the spray bottle!! I just found that simply amazing! So I was playing with her when my other petz, a Great Dane named Callibar, came in. He seemed disturbed that his territory had been taken over by a measly little catz. But her charm cooled down Cal and they instantly became the best of friends. Never inseparable!
"I laughed and sat back in my chair as I watched the two petz play and lick each other at the beach. They were always pushing each other into the water as the hermit crabs dodged Blizz's swipes. Cal would growl and Blizz would hiss at the little shell creatures. They would play anywhere, anytime. And I loved them. We were like Billy, Old Dan, and Little Ann from Where The Red Fern Grows. They moped when I separated them. They leaped for joy when I brought them both out. Pure happiness. I just couldn't stand it when they were a part.
"But one day, one dark day I will never forget, one person changed everything. Blizz was grown up, she was a wonderful cat who could do everything, Cal was a better dog, no longer a bully. But, I thought everything was going to be fine. So I left to make a sandwich for myself. After about five minutes, I heard this horrible laughter and yelping screaming noises. I ran into the computer room to find my stupid eight-year-old brother playing with my program! I ran over to the computer screen and cried when I found out he had the spray bottle. I thought Blizz didn't mind the bottle. Cal wasn't out, thank goodness. But I guess a cat could only stand so much. The stripped white and black tail was the last I saw of her. I hit my brother, at least I think it was him, my eyesight was blurry. After Blizz left us, I took Cal out. I think he knew what had happened. As soon as I took him out, he look abandoned. He went for place to place looking for his lost friend. He went to the beach and started howling mournfully. I guess he just missed Blizz too much. For that day was the last I saw of him. He just wouldn't eat, so he pitifully crawled, tail between his legs, out of the door. I know they are together. But I still miss the playful black strips and light brown fur glide and romp across the beach. For the beach was THEIR place. And I know, that deep in my heart, they are in their own little beach, playing and swiping at the hermit crabs. At least, I hope that they are."
I let out another sigh and looked down at my little sister. But she wasn't looking at me. She was watching the beach. I gasped.
"Did you see that? Did you see that flash?" Hannah whispered to me.
"Yes, yes I did." I said breathlessly. She looked at me through tearful eyes, "I miss them too now," and she hugged me. I just stood there, stiff. I know now, they are together, for what I saw. I had seen a flash of black and white, and a large brown flash across the screen. So I know now, they are together. Forever.
~Written by me, reminds me of Frisky and Sprint


back to top
WHY DID YOU HURT ME?
I was a good petz
A good dogz/catzI didn't do anything wrong
But when you sprayed me, I didn't feel very strong
You are bigger then I
You, to me, are the sky
I looked up to you
When I was a newborn petz, I cooed
When I was adult, I made you happy
And how did you repay me?
By hurting me with that sinful water
It was in a bottle
I know it well, and I wish I didn't
Don't you know how it hurts? Don't you think?
I did nothing wrong, so I ran away
You wanted me too, right? Ok?
But I did nothing wrong, I felt so low
So why did you hurt me so?
I thought you loved me, I thought you cared But not enough, and I got scared
I'm still willing to forgive you if I could
But I can't, I left for good
I loved you…So why did you hurt me?
~Written by me, was just kinda depressed


back to top